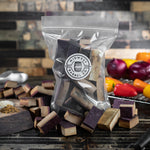 MIDWEST • BARREL • CO.
MISSION

To be a catalyst in creating memorable experiences that are better for our people, planet, beverages and BBQ by providing one thing: damn good barrels.

VISION

Make barrels accessible to anyone and everyone.
Damn. Good. Barrels.
OUR BRAND PROMISE
At Midwest Barrel Co., we take pride in doing things right. Simply put, that means our customers get 100% authentic barrel smoking wood. Never blended with other wood, never compromised in flavor.
OUR BRAND PRINCIPLES
INNOVATE
On a mission to make barrels accessible to anyone and everyone, we do things different. There we said it. It's pretty simple, we want to be the best in barrel smoking wood, work with the best customers, partner with the best retailers and wholesalers and and have the best team.
SHARE
We believe every barrel carries a story. As preservers of history, keepers of the craft and catalysts for innovation, we connect barrels from one point to the next, whether that's at a brewery barrel-aging beer or as smoking wood for your BBQ.
REUSE
Whether you call it upcycling, recycling or lifecycling - we are all about it. Like the oak trees they are made from, every barrel is rooted in tradition. As barrels move from us to you, we plant oak trees and restart the cycle again. We're sustainably focused to use every single part of the barrel.
COLLABORATE
We fuel great collabs that create experiences connecting people + projects + beverages + BBQ. At Midwest Barrel Co. you're family and always invited to happy hour where we'll cheers to our best new ideas.
LEARN
The key ingredient for award-winning BBQ and incredible smoked meats: damn good barrels. As the barrel experts, we take our responsibility for barrel quality and authenticity seriously. We are committed to continuously learning and sharing all the barrel things with you.
WHAT MAKES US UNIQUE?
Authenticity matters. Our barrel smoking wood comes from 100% authentic, used barrels made of American White Oak staves. The deeper, stronger aromas and flavors form our BBQ smoking chips and chunks are unmatched because they are genuine.
EASY
What's the simplest, fastest way to get your hands on authentic bourbon barrel, wine barrel & barrel-aged beer barrel smoking wood? That'd be us.
EXCLUSIVE
Our brand is one of the only ones that takes no shortcuts. No blends. Ever. You get 100% authentic barrel smoking chunks and chips and 100% quality.
EDUCATION
We know barrels. We know BBQ. We're always dropping knowledge on why the two are a match made in heaven when smoking meats and other foods.